Never mind that the June 21st solstice marks the change of seasons. Everyone around these parts knows summer "officially" starts on July 4th (July 1st if you're Canadian). Shorter workweeks, longer days, summer movies (blech) and summer television (much better). Sure you could binge-watch the conventions (and I know you will, despite any warnings I could issue. Go ahead. Democracy at work and all that). There are other, simpler pleasures I'd like to recommend. Below, a small and highly personal list of things that can happily occupy your time.
READ THIS:
CHARCOAL JOE by Walter Mosley: I can't think of a more consummate storyteller than Mosley. His Easy Rawlins books are studies in craftsmanship: suspenseful, well-paced, long on detail and short on excess. His ruminations on the black experience in America are unmatched among fiction writers and his evocation of particular time and place unparalleled. Even if you don't care about any of that, you will still be entertained. Read them all or just this one.
WATCH THIS (television division):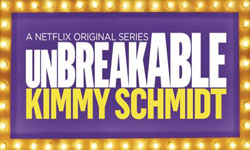 I started watching "Unbreakable Kimmy Schmidt" on Netflix and I can't think of a comedy I've enjoyed more. It's a valentine to  resilience and to New York. Not all the  jokes land, but the wit is prodigious and adorned with flashes of brilliance. Ellie Kemper is so darned likable, Tituss Burgess is the eighth wonder of the world and watching pros like Jane Krakowski and Carol Kane will make your heart sing.
WATCH THIS (movie division):
Rent "Eye in the Sky" starring Helen Mirren, the late, great Alan Rickman, Aaron Paul and many other fine actors.  The movie defines suspense thriller; in the silent spaces between the action, my stomach ached from the tension. Underrated, IMHO, it's a superb if deeply disturbing exploration of the politics and the personal involved in conducting long-distance, drone-operated warfare.
WATCH THIS (advertising division):
Check Molson Beer's heartfelt tribute to being Canadian in 2016. No wonder everyone wants to move there.
LISTEN TO THIS:
I know "Hallelujah" is overdone but have you heard it sung by a chorus of 1500 backing the sublime Rufus Wainwright?
In a recent interview, master songwriter Paul Simon, 74, claimed to need fifteen hours of sleep these days. He's clearly packed a lot in during his waking hours, given his tour schedule and his smart his new album, "Stranger to Stranger".
DRINK THIS: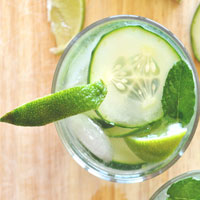 Cucumber Cooler: Combine mint, lime, gin and sugar to a shaker or closed container and shake vigorously. Then throw in cucumber slices and repeat. Leave out the gin, it's just as refreshing. Other fun ideas are here.
EAT THIS: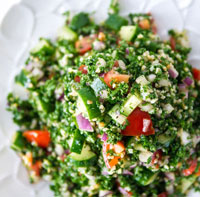 Tabouleh is a great summer dish and tastes great the day it's made. On the other hand, it tastes even better the next day. As a side or main course, for breakfast or dinner, it's healthy and truly satisfying. Just click on the link and you're on your way to a simple, no cook tabouleh recipe.
DO THIS:
Sit outside with a book, take a walk without your phone, talk to strangers, talk to animals, think, breath, enjoy.
We're off for the summer to read, relax and create some art of our own. Feel free to check out the rest of the site. See you in September.