We had a moment, didn't we?
The uprisings that spread like a contagion throughout the Middle East were chronicled via Twitter, knocking off tweets about Kardashians or cute cats. Who would have imagined so few words could be so important, so informative, so inspiring? Even the manner in which Twitter was used to circumvent restrictions placed on Internet access by state-controlled dictatorships felt like something out of a spy novel. The revolution will be broadcast in 144 characters.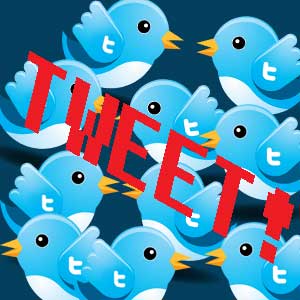 Two years or one technological eon later, everyone who is anyone tweets. Representatives stay up to date on pending legislation, journalists share thoughts on breaking news, activists whip up support for same-sex marriage initiatives—it's all presumably good. It's also not what chiefly goes on across Twitter; not even close. Mostly it's the same awful combination of shallow and inane with a dispiriting amount of mean-spiritedness thrown in.  If you're tracking social evolution, as I've been known to do, the news isn't good.
In fact, Twitter appears to be the latest in a series of cyber-communicating devices that are offering up a platform for the expression of our culture's baser instincts.
The latest non-shocker is the rush on Twitter to defend the young men arrested on charges in the rape of two 13-year old girls in Torrington, a depressed industrial town in Northwestern Connecticut.  Social media is how the case got such widespread attention; as happened in Steubenville, Ohio.  Some argue this is a good thing; in Steubenville, the accused were football heroes who might otherwise have gone unpunished.
Leaving aside the question of whether social media forced the police or school officials to act (I'm not convinced), what Twitter has offered in that case and in this most recent incident is a peek at the attitudes of the young men's defenders. Their reaction is encapsulated by this post: "Young girls acting like whores there's no punishment for that, young men acting like boys is a sentence."
The statement perpetrates two myths, of course:  Boys are ruled by their hormones and girls, if they encourage the beast, are asking for it. Evolution might suppose we've got a handle on impulse control; the tweets suggest otherwise.
Meanwhile, we've got laws to protect minors, even supposedly knowing ones. Yet, as one distraught school official in Torrington notes, no one seems to have taught the kids about the meaning of statutory rape. Maybe this is why one Steubenville defendant was reportedly shocked to learn that having sex with an unconscious girl was considered rape, since she didn't say no. I clearly recall boys in my high school and college classes warning each other away from underage girls with the admonition, "Seventeen will get you twenty." Maybe my school put extra emphasis on civics classes.
What's at play here is the speed with which disinformation (along with gossip, innuendo and outright lying) can move along the social media highways and byways, becoming the truth through sheer repetition.  Twitter and its forerunners make it easier to indulge our closely held, close-minded, feels-good-in-the gut instincts. Instead of questioning, we employ hashtags and find like-minded souls with whom we can give voice to our impulse to rant and rail. The anonymity works like Harry Potter's Cloak of Invisibility. Free reign for the ego.
Some media outlets point to a generational divide, with shocked parents and teachers amazed at the speed and reach of social media. Well-meaning school officials, law enforcement types and parents are certainly flummoxed by the easy acceptance of tweets, posts and online information generally as truth. But people born after 1995 have had plenty of older role models as they watch adults play in the un-policed playground that is cyberspace.
Angry vitriol and bias beyond reason or discussion has long found an outlet on the Web, first in chat rooms and now in easy-to-create web pages. Paranoia expresses itself on Facebook pages and WordPress sites that make use of ready-to-go graphics with which to present a lightly informed but deeply biased worldview. Disable the comments section or make it available only to supportive members and voila: your very own insular community.
Facebook is about hanging with like-minded people and "unfriending" the trolls and opposites. Nothing wrong with that but Twitter's original appeal was its appearance as a more open and free-form sort of communication.  The failed Iranian uprising and the presumably successful Egyptian revolution opened up the possibility Twitter might be a tool for nascent democracy.  Now we get mean girls, mean boys and corporate hashtags. Well,  we can't blame the medium when it's the message that's mucked up.