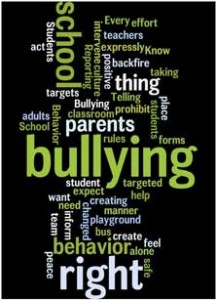 Bullying is all the rage; at any rate, we're talking about it more. Has it gotten worse? And is there really any way to stop a bully?
Slate contributor Emily Bazelon has written the latest in a line of anti-bullying books and her agenda is fulsome: she wants to reform not only the way we deal with the victims but also the perpetrators, which goes to a veritable cultural revolution. Bazelon warns against labeling everything as bullying (sometimes kids disagree) while at the same time finding a way to make bullying "uncool". Bystanders, she tells us, have a responsibility to help stop ongoing bullying.
Perhaps all these books on bullying (I counted at least half dozen others in the last six months) are addressing a problem made worse by looser rules, less moral or religious guidance, an overwhelmed educational system, and increased access to widespread communications systems (social media), which allows reputations to be ruined and resentments to be nurtured.  Or maybe the new technology allows us to release our inner brute.
Like almost everyone I know, I was bullied growing up, although it never rose to a physical threat level. In that long ago, pre-cultural diversity time, I was just different enough from the wholesome Midwest Protestants with whom I grew up–edgier, more inquisitive, and more restless. I spoke up when something didn't make sense, even if that "something" came from a teacher. Worse, I was saddled with an awkward, unpronounceable first name my mom slapped on me as a way of honoring her newly passed, old-world mother. Oh what fun the mean girls and boys had with that!
I survived, thanks to a strong family unit. Though I suffered hurt feelings as an outsider, I had no particular concerns about being permanently damaged. I never felt my experience defined me as an adult—or maybe I didn't let it. On one or two occasions I was even able to stand up to the bullies.
Conditions today might have made me feel a lot different. The Internet is everywhere, tempting and taunting us and giving strength to the old adage "everyone's a critic". Yes they are and they'll cut you without a second thought, often anonymously. As someone who writes and publishes online, I've come to dread the comments box. If I were an insecure, hormonally challenged fourteen-year old with the requisite online presence, I can't imagine how I'd stand up to an onslaught of abuse or insult. As both fiction and real life like to remind us, worrisome and dangerous consequences can result from feelings of alienation in a young person.
It's worth noting Bazelon's comprehensive book is titled Sticks and Stones: Defeating the Culture of Bullying and Rediscovering the Power of Character and Empathy. I questioned a few years ago whether empathy could be taught . In the past few years, efforts have been made to add it to the curriculum at a number of schools and universities, as well as in courses offered to corporate employees.
In fact, the New York Times reviewer John Schwartz discusses this book within the context of a larger an ongoing discussion about whether we humans are becoming more or less mean. The question has been given new impetus by last year's controversial book by Stephen Pinker,The Better Angels of Our Nature. The outrage occasioned by the book centered on not just Pinker's research methodology, but also on his contention that we are getting nicer. Furious commenters let Pinker know in no uncertain terms humans were bad and getting worse. The only question was why the hell couldn't he see it?
I take the view that we aren't so much nasty as focused on reward. Bullying, whether physical, verbal or via cyberspace, is all about control: I dominate you, which gives me a sense of power or control, which feels good or makes me feel less bad. The impulse to feel good overrides any consideration about the feelings of others. Who doesn't want to feel in control? Show of hands? I thought so.
For years, humans have tried to restrain these instincts by creating codes, both legal and moral, to constrain injurious behavior. While such rules and regulations are valuable, they trade on inducing guilt (not to mention fear of either the all-imposing Deity or the law). I don't believe that's always the best approach.
Obviously, if we can align feelings of well-being and yes, even control, with concern about others, we might be able to sidestep the need for playing the guilt card. Pinker thinks we're evolving; maybe we can nudge things along in our efforts to become more collegial and cooperative. Even the idea of we could teach empathy seems a step in the right direction. We wouldn't reach every budding sociopath but perhaps we could lessen the number of incidents involving domestic violence, sex trafficking, dictatorship or genocide.
In the meantime, I'll settle for rendering bullying obsolete by making it so unfashionable no teen—or boss or world leader—would be caught dead doing it.