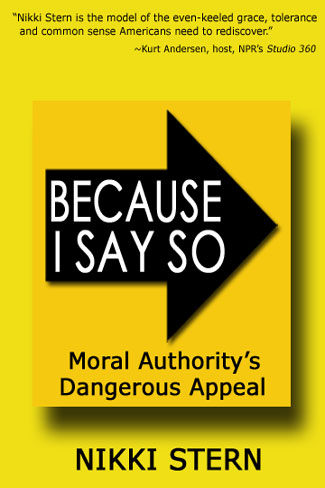 Nikki Stern embarks on a provocative exploration of the role of moral authority in American contemporary culture, beginning with her own experiences as a "9/11 widow."
She disputes the notion that victims of tragedy are morally special and questions why claims of moral authority often pass unchallenged. She also examines ways in which our moral sense of self is altered by fear or close-minded certainty.
With humor and purpose, the author offers a way of thinking that is both reasonable and hopeful.
Praise for the Book
"Nikki Stern is the model of the even-keeled grace, tolerance and common sense that Americans need to rediscover."
~Kurt Andersen, author and host, NPR's "Studio 360″
"In this impassioned and important book, Nikki Stern—drawing on the personal tragedy that led to her own brush with the rabbit hole of fame—asks us to reject preconceived notions about who we believe and what we decide is true."
~Leif Wellington Haase, director California Program, New America Foundation
"Nikki Stern wields her enviable wit to tilt at society's windmills in a voice empowered by her starring role in arguably the most seminal event of our lifetimes."
~Christal Smith, producer
Available at: