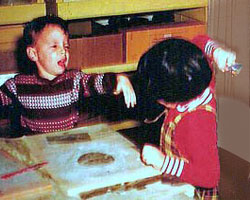 2014 is a few weeks old and a great many of us are struggling with resolutions we made while wrapped up in December's holiday glow. When we're forced to deal with freezing temperatures, accompanied by merciless winds and punctuated by quick hits of warmth that encourage germs to incubate and insects to enter our homes–the bugs come inside!–we might be forgiven for failing to suppress our inner cranky pants.
Okay, I may be personalizing a little bit.
We don't stop with aiming for svelte bodies or clean closets in the new year. Many of us resolve to live better lives, a grandly aspirational (if vague) promise to make. Who doesn't want to live a better life? We need assistance, though, which is why the self-help industry remains so robust.  Books about fulfillment fly off the shelves or onto electronic devices. The Secret, which repackages a time-worn idea, is still popular although I find its message of empowerment both self-centered and insensitive. "Got problems?" the author seems to suggest. "Your bad; you're not communicating clearly with the Universe." The dictum appears to apply to the jobless, the homeless, victims of rape and genocide and those who suffer from life-threatening disease.
Not the betterment we might seek.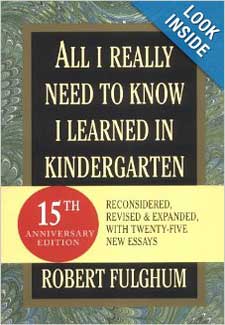 Another popular book, celebrated for its simple wisdom around the world since its  is Robert Fulgham's   All I Really Need to Know I Learned in Kindergarten. It's hard to overstate the cultural significance this collection of essays, first published in 1988, has had. Think about how much the title and the concept have been parodied and plagiarized.  Fulgham's original essay, which was the basis for the book was even read on the Senate floor (not recently, but still!)  The book has been translated into twenty-four languages and has sold and continues to sell in the millions.
All we need to know, apparently. Or is it?
A summary of the book's salient points:
Share everything.
Play fair.
Don't hit people.
Put things back where you found them.
Clean up your own mess.
Don't take things that aren't yours.
Say you're sorry when you hurt somebody.
Wash your hands before you eat.
Flush.
Warm cookies and cold milk are good for you.
Live a balanced life – learn some and think some and draw and paint and sing and dance and play and work every day some.
Take a nap every afternoon.
When you go out into the world, watch out for traffic, hold hands, and stick together.
Wonder. Remember the little seed in the Styrofoam cup: The roots go down and the plant goes up and nobody really knows how or why, but we are all like that.
Goldfish and hamsters and white mice and even the little seed in the Styrofoam cup – they all die. So do we.
And then remember the Dick-and-Jane books and the first word you learned – the biggest word of all – LOOK.
When you go out into the world, it is best to hold hands and stick together.
I don't wish to be cynical about a book that has meant so much to so many. It's a fine idea to share (except when it comes to Facebook). Experiencing wonder is the key to a more joyful existence. Living a balanced life opens us up to wonder and keeps us sane, for the most part. And wouldn't the world be a better place if we cleaned up our own messes, practiced good hygiene, accepted the cycle of life and avoided taking things that didn't belong to us?
But even allowing for some variation of the "cookies and milk" suggestion for the lactose-intolerant or the sugar-adverse, I still think the book misses a few opportunities.
I'd change "Don't hit people" to "Don't hurt people." Bullying can take many forms and verbal nastiness has many faces and many outlets these days. Cyber-bullying, Twitter-shaming and text-trashing are just some of the offspring born of the most venal forms of the talk show format. "Don't hurt people" might then encompass everything from verbal abuse to the most egregious examples of torture.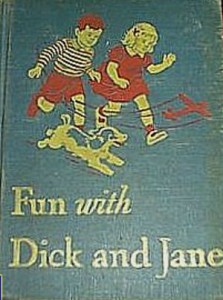 Not everyone will remember the Dick and Jane books but if we were to reintroduce them, I'd suggest we all LISTEN as well as LOOK. Empathy begins with consideration of what someone else might be experiencing. It requires we resist talking—or typing—regardless of context and for the sole purpose of making a point.
And why not ask kindergarteners–and by extension the rest of us–to THINK?
There are other nuggets of wisdom that weren't shared with me in pre-school, like how to live with adversity. That's not something toddlers generally need to worry about. But we might teach even kindergarteners to be on the lookout for others in pain. It goes back to teaching and practicing empathy.
Boiling life lessons down to a few simple rules is never a bad idea, but I'd venture to guess we all have modifications or additions we might offer.
I'd like to invite you to share those on this page: your homily, fable, wise saying, guidepost or mantra, funny or serious.
Look, I'll take any help I can get.