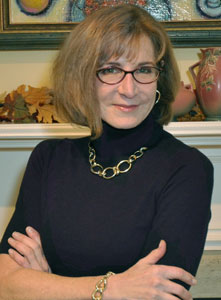 Nikki Stern has published three books, two non-fiction and one fiction.  NPR host and author Kurt Andersen describes Because I Say So as embodying "even-keeled grace, tolerance and common sense." Hope In Small Doses is a 2015 Eric Hoffer Montaigne Medal finalist given to non-fiction works that inspire, provoke, and redirect thought. Midwest Book Review calls her suspense thriller, The Former Assassin "a riveting read from start to finish" and IndieReader has awarded it four stars.

Nikki's essays have appeared in three anthologies and in the New York Times, Newsweek, USA Today and Humanist Magazine. She shares author credit with David Landau on a series of interactive musical murder mysteries, published by Samuel French. Her short stories have appeared with several online literary magazines.  Nikki has also completed a hybrid mystery/science fiction novel, the first in a series about an unconventional law officer named Sam Tate.

To keep up with news and musings from Nikki, please take a moment to subscribe. Click on EMAIL NIKKI, write "subscribe" in the email subject field, send, and you will be added to our mailing list. We promise you won't be inundated and your name won't be sold.