Latest Post:  Now Read This
A look at high, low and middle-brow books on my summer reading list.
read more…
Latest News: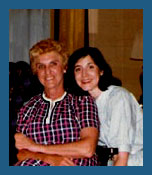 The May issue of Screamin Mamas, a magazine dedicated to mothers and motherhood, is featuring Nikki's tribute to her mom Hilda, which you can read here: Hilda Toby Gennet.
The entire magazine is available in digital or print form at : ScreaminMamas.

Nikki will be a featured speaker at the American Humanist Association's 72nd annual conference in San Diego, California.
Nikki's presentation, "Hope in Small Doses: a Blueprint for Reasonable Happiness" will take place on Saturday, June 1st, the second full day of the three and a half-day conference. For more on the conference, including registration information, visit CELEBRATE HUMANISM.
Nikki reading at "Brave Hope: The Healing Power of Writing"
Luthier's Coop Music in Easthampton, MA
April 21, 2013


Can Hope Be Bad?
by Susan K. Perry, Ph.D.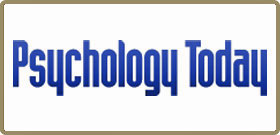 "Nikki Stern, the author of Hope in Small Doses,…shares her own road toward workable hope. A very intelligent book."
read more…
TSA stands by knife decision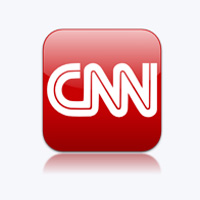 (CNN) — Nikki Stern lost her husband in the 9/11 terrorist attacks, and she doesn't understand why knives would be allowed in airplane cabins 12 years later. Stern doesn't think box cutters killed her husband…but she doesn't think people need knives on airplanes. "I am aware of the argument that anything can be made into a weapon, but knives make it easy," Stern said.
read more…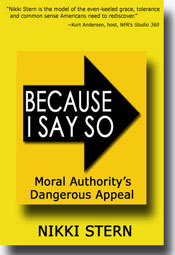 Nikki's first book, Because I Say So: Moral Authority's Dangerous Appeal, has been re-released in digital form. The book is currently available for Kindle and Kindle apps on Amazon. Other e-formats are expected to follow.
For more information, click here.
Nikki's essay on Ground Zero and Zuccotti Park has been included in Beyond Zuccotti Park: Freedom of Assembly and the Occupation of Public Space, published by New Village Press. Nikki was one of three panelists at the book launch and discussion on September 10th, 2012.
For more information, click here.
Nikki has also been invited to contribute an essay to a proposed book Global Chorus: A 365-Person Anthology of Worldwide Concern and Enduring Hope. The book is being created as a fund-raising tool.  Contributors to date include Trudie Styler, Desmond Tutu, Professor Stephen Hawking, among others. Publication is planned for late 2013.
For more information, click here.
Hear Nikki talk to the National Press Club in Washington, D.C.about her book,
Hope in Small Doses: