Latest Post:  Long Away and Far Ago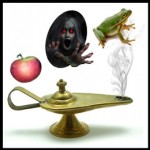 In which the fairy tales fracture, then sort themselves out to almost everyone's satisfaction.
read more…

Recent Events: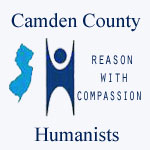 Nikki will be one of two featured speakers at "Eternal Spring" a celebration hosted by the Camden County Humanists. Presentations by two humanist authors, Nikki and Laury Egan, will be followed by Q&A with the audience. Appetizer plates and coffee will also be available.
When: Saturday, March 22nd between 4 and 8PM
Where: The Taproom & Grill, 427 West Crystal Lake, Haddenfield, NJ
Cost: $35, which also included a copy of each of the Author books.
RSVP and directions:
Eternal Spring 2014
Latest News:
Can Hope Be Bad?
by Susan K. Perry, Ph.D.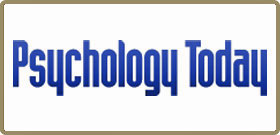 "Nikki Stern, the author of Hope in Small Doses,…shares her own road toward workable hope. A very intelligent book."
read more…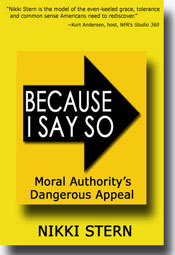 Nikki's first book, Because I Say So: Moral Authority's Dangerous Appeal, has been re-released in digital form. The book is currently available for Kindle and Kindle apps on Amazon. Other e-formats are expected to follow.
For more information, click here.
Nikki's essay on Ground Zero and Zuccotti Park has been included in Beyond Zuccotti Park: Freedom of Assembly and the Occupation of Public Space, published by New Village Press. Nikki was one of three panelists at the book launch and discussion on September 10th, 2012.
For more information, click here.
Nikki has also been invited to contribute an essay to a proposed book Global Chorus: A 365-Person Anthology of Worldwide Concern and Enduring Hope. The book is being created as a fund-raising tool.  Contributors to date include Trudie Styler, Desmond Tutu, Professor Stephen Hawking, among others. Publication is planned for late 2013.
For more information, click here.
Hear Nikki talk to the National Press Club in Washington, D.C.about her book,
Hope in Small Doses: